Columban Way Switzerland. I am your hiking guide. I look forward to hiking with you on this walk from Basel to Chiavenna. In doing so, I will draw your attention to all kinds of interesting sites and facts. All information is made from the point of view of moving from Basel to Chiavenna. For hikers who take the opposite route, the opposite information applies accordingly.
First, I'll introduce you to hiking trail signaling in Switzerland.
The signpost explains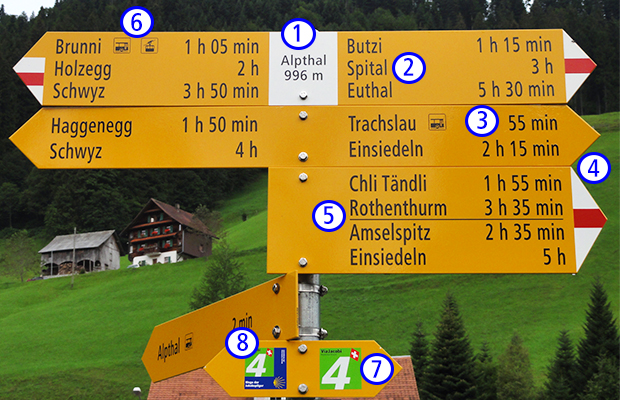 1. Current location and altitude above sea level
2. Hiking destinations
If several destinations can be reached in the same direction, the nearest ones are listed at the top.
3. Hiking time (without breaks)
Time information can be found at all starting and ending points as well as intermediate destinations of a walking route. Directional signposts (i.e., signposts without destination information) are used for pathfinding at path branching and have no time information.
4. Road category
The degree of difficulty of a path is clearly visible thanks to the signaling: There are different routes (yellow) and mountain trails (white-red-white).
5. Hyphen
If there is a route branch later, this is indicated by a hyphen.
6. Symbols
On the signposts and directional pointers they point the way to a public transport, viewpoint, barbecue or restaurant.
7. Direction pointers / intermediate marks (see examples below)
These signposts without destination and time information (only yellow boards) can be provided with a pictogram (for example hiking) and are everywhere where the further course of the route is otherwise unclear. They are supplemented by the so-called "confirmations" (white-red-white markings, yellow arrows).
8. Green stickers with numbers and route names
They are attached along particularly attractive hiking trails.
---
Intermediate Marks

Intermediate marks guide hikers between the signpost locations. They inform about the course of the way and about the category of the way section.
---
Direction Indicator
The white-red-white markings confirm the way and the correctness of the orientation of signposts, but do not indicate direction.
The yellow rhombs serve the same purpose.
---
Marks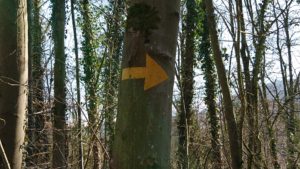 Marks as well as painted directional arrows are affirmations painted on stone blocks, trees, walls, posts and the like.
---
---
On our hike we will find the green stickers with numbers and route names (see 8 above) for the following routes:
No. 60 Via Rhenana (our hike from Basel to Koblenz)
Nr. 4 Via Jacobi (the blue border indicates the direction to Santiago, without blue border the return way), on our hike from Pfäffikon-Rapperswil-Wattwil, from Tuggen to Wattwil and from Herisau to St. Gallen to the cathedral. We follow the direction without blue border
No. 64 Via Sett (our hike from Chur via Lenzerheide and Septimer to Castasegna / Chiavenna)
For the remaining routes we follow the yellow signposts as stated above.
Public transport
The public transport network in Switzerland is very dense and there are almost at every place rail and / or bus connections to the next town. Timetables can be found at www.sbb.ch/de/fahrplan.html. Buses and trains run almost every hour. Thus, a stage can be abbreviated and the next stage location reached by bus or train.
Also in Austria there is a very good offer of public transport: http://fahrplan.oebb.at/bin/query.exe/dn.